Monday, 6 May 2019 – Planning 
Contents 
SWOT Analysis – identifying my strengths, weaknesses, opportunities, and threats
CV/Resume – the document that I will submit to companies in order to get employed
Summer Internship/Work opportunities
Future – planning ahead and discussing summer opportunities
---
SWOT Analysis
What's a SWOT analysis? SWOT stands for Strengths, Weaknesses, Opportunities, and Threats. This is something that has been designed for self-reflective and analyzing purposes. It allowed individuals to identify their strengths, weaknesses, etc.. to help them push their skills and abilities further.
SWOT Analysis is a useful technique for understanding your Strengths and Weaknesses, and for identifying both the Opportunities open to you and the Threats you face. (Mindtools, 2019)
Strengths,
– Can design and code any design of a website
– Capable of designing various UI concepts and making animations
– Wireframes and rapid prototyping of UI's
– Proficient in various design software
– Aware of the fundamentals of UX research
Weaknesses,
– Not as knowledgable and experienced with Javascript
– Need to utilize GSAP framework more and perform experimentations to boost animation coding abilities
– Lack the ability to create complex animations as concepts using software such as Principle, Aftereffects, etc…
– Don't know ReactJS or Vue
Opportunities,
– Improve in Javascript during summer and 3rd year by working on projects e.g Final Major Project
– Utilize GSAP framework to improve coding animations within various experimentations over summer
– Experiment with design software over summer projects
Threats,
– Lack of motivation may affect my outcomes (if it happens)
– Lack of time is a possibility but is unlikely
– Competition, there are many other designers who do what I do, perhaps even better
– If the industry changes what it's demanding for, I may have to learn new skills to adapt
---
The results written above are based on my experiences so far and all the projects I have encountered as a University Student at NUA, including the freelance work I have done so far. I believe the data above has always in my mind, but I have never really written it anywhere down except in my other posts. Until this unit has mentioned SWOT analysis, I didn't really know what SWOT analysis it was, I think this it is quite an interesting concept that can be personalized to yourself and also applied in businesses so they can also perform an analysis.
SWOT Analysis is a simple but useful framework for analyzing your organization's strengths and weaknesses and the opportunities and threats that you face. It helps you focus on your strengths, minimizes threats, and take the greatest possible advantage of opportunities available to you.
It can be used to "kick off" strategy formulation, or in a more sophisticated way as a serious strategy tool. You can also use it to get an understanding of your competitors, which can give you the insights you need to craft a coherent and successful competitive position.
When carrying out your analysis, be realistic and rigorous. Apply it at the right level, and supplement it with other option-generation tools where appropriate. (Mindtools, 2019)
I think where I need to improve most is honestly my programming capabilities and knowledge. I am only aware of Javascript fundamentals and I've been applying them mainly for animation using the GSAP framework. The other necessary improvement for me is being able to create and convey complex concepts using various design software such as Principle and Adobe Aftereffects. What I mean by complex are the following images: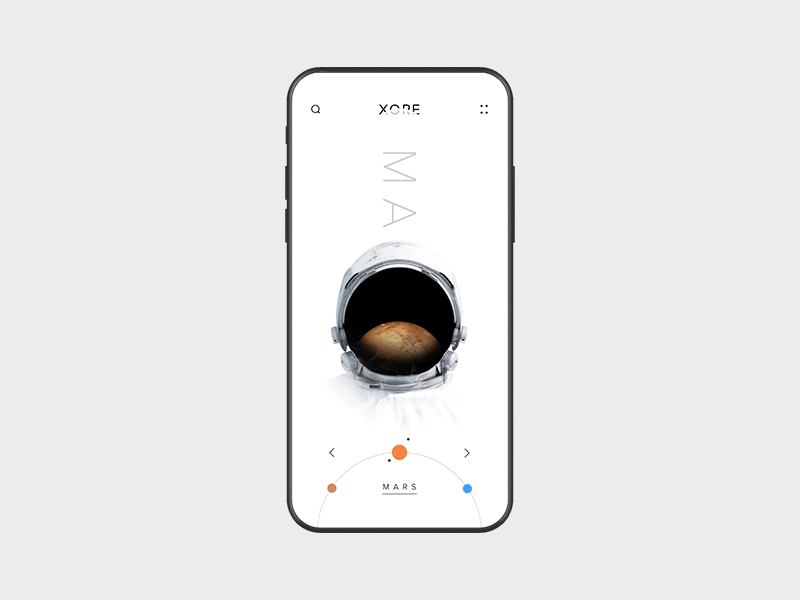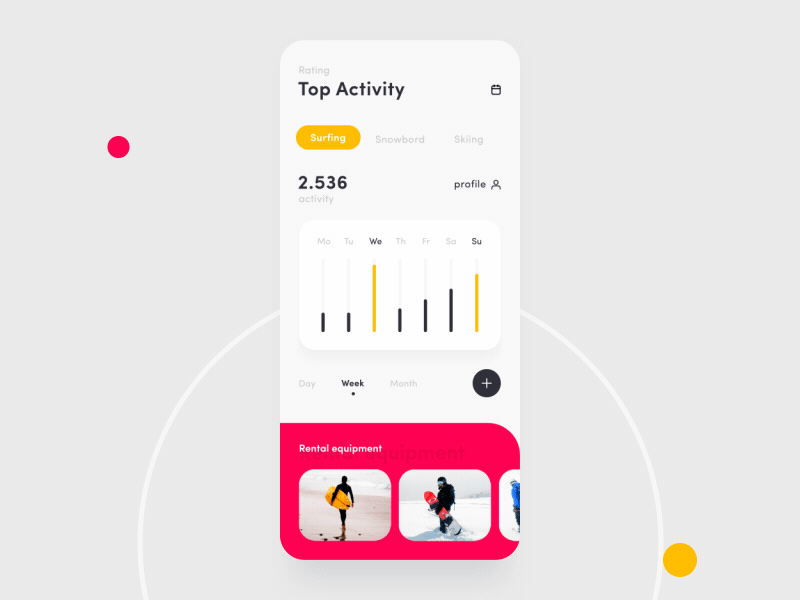 The reason why I think it's important to be able to create such animations is that as a UI/Interaction Designer I need to be able to convey my ideas and thoughts like the examples above. They are also part of the process, rapid prototyping. But other than that, this ends my SWOT Analysis and I believe I will have a lot of opportunity during this summer and 3rd year to improve and work on my skills and abilities.
CV/Resume
Online view available at https://drive.google.com/open?id=1tNrCbIuTd3i0Oe2WllKieGUncLG3sFTo
This is my updated resume, after making my first resume 3 months ago, I realized it was terrible looking and it was simply unorganized and I will be explaining why shortly. Using a resume builder, I made my new resume below. My resume looks a lot more professional now and my skills/capabilities are disabled neatly. Everything is readable and understandable. I will definitely be using this new one when I apply for my planned internships and future jobs.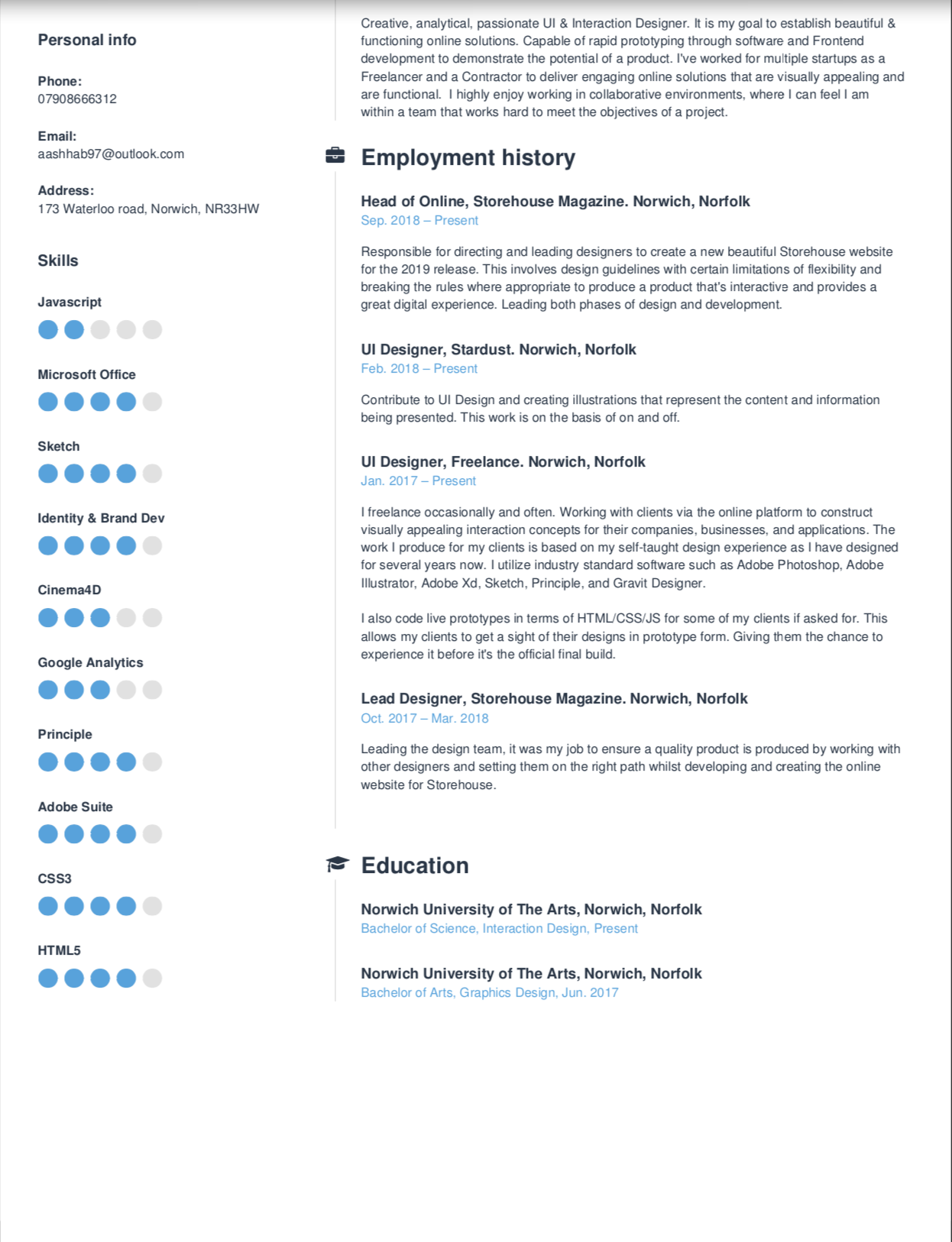 Old Resume
You can clearly see how badly it's been done. The design is poorly executed. The layout is uncomfortable the eyes and people to look at. The information and my experiences simple looks poorly written and unconvincing. When you look at it completely, really the resume speaks to you in terms of a "student", not in terms of someone whos capable of demonstrating professionalism.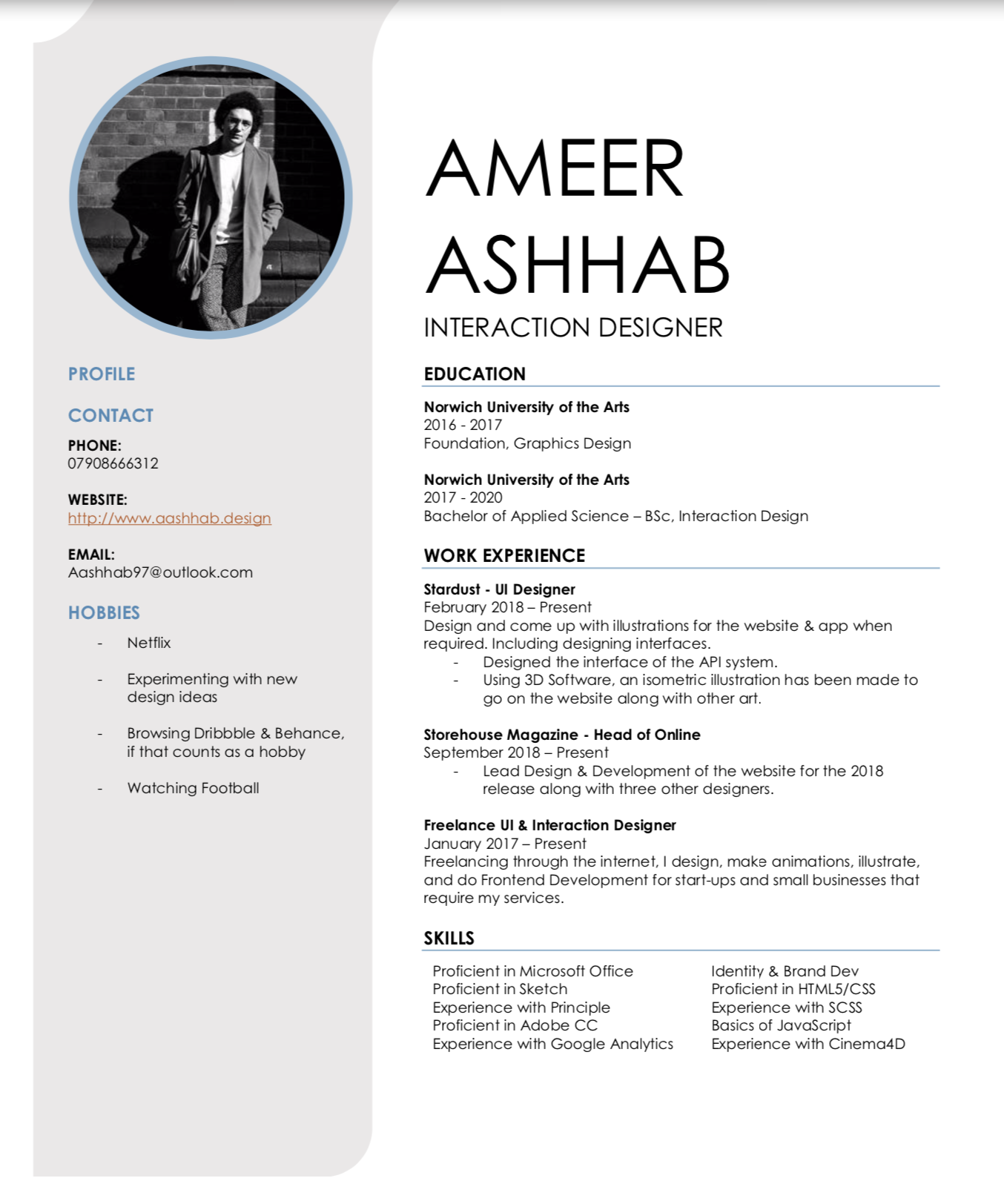 How I wrote my resume
Using this source as a reference/inspiration: https://medium.com/bestfolios/8-brilliant-ux-designer-resumes-that-secured-job-offers-from-google-c9e534adafc2
Looking at how other people wrote their resumes, that gave me many ideas on how I can write mine as well. It's simply a matter of highlighting your experiences in a presentable manner and choosing the right words to effectively convey what you are good at. I've also analyzed the things people have mentioned about themselves, and then I did the same. The thing is, all these years of my life I have never really made a resume/CV because before I came to university I almost had 0 experience. So there was nothing to exactly write, making my resume/CV blank essentially.
So what should you exactly include in a resume or CV?
According to https://standout-cv.com/pages/what-to-include-in-a-cv
Education & qualifications – include your most recent and relevant qualifications with lots of detail if you are inexperienced, and less detail if you are experienced.
Industries you've worked in – Where does most of your experience lie? Banking? Retail?
High-level skills – Do you have sales experience? Or are you an admin specialist?
Problems you solve for your employers – Try to show how your actions affect your employers. If you are in customer service, then maybe you help to drive sales, if you are in accounting then maybe you help to save costs.
a core skills section is a bullet-pointed list split over 2 columns which highlight your most important skills and knowledge for the roles you are applying for. The effect this section has is that it creates a very quick snapshot of your abilities – so that readers can get a great idea of your talents from just a quick glance. This will really help you to make a big impact when your CV is opened.
When you write your previous jobs/positions at other periods of your time, you simply need to write the date of start and the date it ended, and then you mention your role/title and the key points of what you have done at that job. The goal of a resume/CV is to sell yourself, and that's what you exactly need to accomplish when you write it.
Summer Internship & Work Opportunities
Znotes – http://www.znotes.org
Recently, the founder of Znotes, who has been a friend of mine since high school has contacted me in regards to hiring me full-time during the summer to provide my expertise and skills for UI Design. He wants to extend his platform to provide new and different services such as a dashboard system for the users to use. As well other pages such as coaching/mentoring. I do not know the complete details yet, as I am waiting for him to finish his exams and then he will sit down with his team to discuss my involvement.
I have previously done work for Znotes, as mentioned previously in my other post: https://ameeralashhab.nuacomputerscience.co.uk/2019/02/14/freelance-work/
Their operations and the team are based in London. I may most likely be visiting London 3 times a week or so. I have also asked to have my travel expenses paid for, because it may get expensive for me to travel every time. About 120 pounds a week would just go on traveling. He said he has kept this in mind, and once he sits with his team they will discuss the kind of compensation I should be receiving and the coverage of my travel expenses. I am certainly looking forward to this opportunity as it will most likely work out. I'll be working with the rest of his team, including the developers who are working for him. It will be a collaborative environment once again, just like the Broads Project, but this time it will be an actual job. The reason why I say it's an actual job is that I will be compelled to work 8 hours per day and will be compensated.
I will have to wait till the end of May most likely or till mid-June to hear more about the opportunity and further confirmations. However, that doesn't mean I will sit down and not consider other opportunities. This is because other opportunities may have something better to offer, and he is fully aware of this. This gives me the upper-hand because it will put pressure on him to make a decision quicker and make arrangements. He has made it clear that he really wants me to work for him, so I will see how it goes.
Stardust – https://www.stardust.gg/
There might be an opportunity to work for Stardust once again due to the on-going development of their platform and website. I believe there could potentially be an opportunity as well due to the Stardust team liking and appreciating my work. I can confidently say that I have delivered more than $8k+ worth of work over a period of a year or so. I was the one who designed their brand (logo) and contributed to the UI design of their website (a previous iteration). I have reached out to the CEO/Founder of Stardust and I am expecting to hear back very soon.
Over the period of time that I have done work for Stardust, I have established a great relationship with some members of the team, including the CEO himself. I have had previous calls with him, and I've discussed him with topics such as how to begin a business and advice that he would give, how to find investors, etc…he's a very knowledgable person and he has a great amount of experience at a young age.
My confidence in finding something to do with Stardust is not as great as Znotes. I say this because I have not been reached out to particularly. But regardless, I have messaged the CEO and will be asking if there are any full-time related opportunities for a UI Designer like myself.
Sigma – https://www.wearesigma.com/
Weeks ago, I have submitted an application to Sigma in regards to an internship opening suggested and mentioned by Jamie, my lecturer. I sent him my CV to them and I have been responded to being told that the Lead Designer has been Cc'ed. It's been almost 6-7 weeks since I received any response. I am not particularly impressed by this company and I have lost the desire and interest to even consider working for them. I understand that as a company they have other things to do and work on, I get it. However, I do not believe that justifies the reason as to why they are not capable of responding in a week or 2.
It's as if they have false advertised and are not actually interested in taking any interns. I mean if they want to reject me, they are welcome to do so but making me wait for weeks without any response so far just makes them look unreliable and are unworthy to work for.  To be honest, if they respond anytime soon saying they have an opportunity me, I will simply respond with thank you, but I have found other opportunities since then.
I think that's a good way to tell show them and tell them that you have been too slow and other opportunities have caught my interest and are worth my time. I felt from the beginning that this would happen, and they are turned out to be the same as the majority of other businesses and companies. There are other institutions that reply as short as just one week, and I find those institutions to be more reliable and are actually more interested in giving students an internship opportunity so that they could learn. But other than that, I am moving on and focusing on other opportunities. Sigma isn't worth my time. This may come off as a rant, but it really isn't. As I am just doing what I believe is to be the best for myself.
Portfolio
My portfolio is available and live at: https://www.aashhab.design/
The only issue with my website is the fact that I don't really talk about the work I have done. I simply have written one paragraph for every piece of work. A lot of my clients and designers like the website and the work I have done, however other designers have recommended me to at least show wireframes and discuss the goals and objectives of every piece of work. This way employers will be able to understand more how my thought process works and how I exactly came up with every creative work I have done.
They have also told me not to get into much detail and write endlessly, but instead to keep my descriptions and detail concise and meaningful. This way I would display and show my work effectively. But other than that, they have said there is not much else to do.
So when will I do this? I will do this over summer, along with other pieces of work that I will potentially be doing. I do believe as of currently I am on the right path as a Designer and as long as I keep my mind open to criticism, constructive criticism, of course, I will be on my way to have a website that reasonably conveys my capabilities and abilities as a designer.
Conclusion
As of Tuesday, May 7th, 2019 – this concludes my search for an internship opportunity as of currently. I will be seeking and searching more upon submitting my work and meeting deadlines this Friday, May 10th, 2019. I am quite confident that I will be working and interning at some place this summer, because I know people like and appreciate my work and I will not be sitting down this summer and not doing anything productive. I need to take advantage of this summer to improve my resume/CV and my experiences. These experiences will prepare me for the future and the industry when I graduate. The more experience I have, the more likely I am going to be employed upon graduation.