Dissertation & Research Proposal – April 28th, 2019
It has come to a very important time in the process of obtaining a degree in Interaction Design. It has come to preparing to write my research document for the 3rd year. It will be tough and a lot of work, a lot of research, and it will take a significant amount of effort. It has taken a lot of thinking to decide the path that I want to go through for this proposal that will prepare me to write my dissertation. After all the conversations I had with my colleagues and Jamie about what I want to write, I have resulted in deciding to go with UI/UX in the Financial Industry. What I will go into specifically will be decided after the completion of this proposal. The purpose of this proposal is to narrow down into what I want to write about, then the exact specificity is achieved upon more decision making after this.
Personally, I am not sure if I feel excited or hyped about writing this dissertation, at the moment to me it just seems something that I have to do in order to graduate, however, I know for sure what I want to write about does interest me and I do want to learn more about UI/UX in the Financial Industry. Why the financial industry? because it involves a significant amount of money. E.g Stock trading, cryptocurrency, A.I, algorithms and much more. A lot of institutions conduct UX research and hire designers who can do the job because the money of these companies is at risk and they need to make sure they deliver a digital experience that is beyond excellence, they need to make sure they meet the required needs of their users. Especially the UI of trading and stock exchanges, since they involve dealing with a lot of numbers, graphs, charts, and various amount of data, they need to be easy to comprehend and understand.
The process of making up my mind,
Honestly, it took me weeks to think of what I want to write about and it's important to truly find out what it is you want to write about because this dissertation will be 5,000 words. If you are going to write something, you will need to be able to do that by figuring out something that you can actually write about and it is interesting to you. Otherwise, you will have a very hard time achieving the word count in a quality manner. So I sat down with myself and pulled out my iPad, and decided to make a spider diagram of all the things to do digital experiences that interest me and spark curiosity.
From the spider diagram above you can clearly see how many ideas and thoughts were going through my mind. I remember creating this diagram and I simply had to write everything own due to how much I had into my mind for this dissertation. Here's a list of things that I have thought about:
Artificial Intelligence
UI Design and UX design
Virtual Reality
Augmented  Reality
The Future of A.I
Web technologies like WebGL
Quantum Computing
Interaction Design
OpenGL
VR Fulldive
Healthcare
Robotics
Manufacturing
Self-driving cars
XR combines VR and AR
and the list could keep going, but those are the main ideas above. It's quite intense to me that the fact I had so many thoughts like this going in my mind. The moment I finished writing/drawing the diagram, I had to sit down for a moment and relax. I had to re-arrange my thoughts and get myself together. I wasn't stressed or panicking, but I had to take a moment to digest and look at what I exactly have done. There were many options and subjects that I wanted to research, but then I came to the realization that I could only pick one, and only one subject that I had to dig into to find something specific about it that I can write about.
At university discussing my ideas,
I then recall taking this diagram to university and discussing my ideas with Jamie and my colleagues. I've been told similar things to what I already have mentioned, but, in order to come up with a good question it needs to be specific and relevant to the subject that I want to write about – and then Jamie gave me direction and began to explain to me how the proposal is to be treated as a way of getting closer to the final question that I will come up with to write my dissertation. I also discussed with them in regards to how I would like to write about A.I potentially that involves futuristic interfaces. But then, was I really going to find documentation and academic sources on this? nope. This is where the situation has begun to become quite difficult for me. Not only I had to think of a question and something specific, but also whether I am going to find academic sources and research on it. I was annoyed and frustrated, but hey, it's part of the process and this is only the beginning.
After that session, I took myself home and decided to leave writing the proposal for Easter. During the Easter holidays, I've traveled to Turkey to see my family and it was a great get away from everything. I needed to see my family since I have not seen them since September. 10 days later, April 19th I've come back to the UK and I took off a few days to settle down to re-adjust my mind and adapt to the fact that I am now back in the UK and it's time go back to work. It honestly took me a few days to put my mind back into work-mode.
As mentioned last year, I've stated that when you move away from the routine for some time, you lose it, this is because once a routine has been broken, I go into the mindset of having a break and a good time watching movies, relaxing, and going out with my friends. Once I have put myself into the right mindset I headed off to my friend Lewis Eydman, who is a 3rd-year Graphic Communication student. Certainly, this is where things got interesting as I have asked for his help with my proposal and thinking for the dissertation. 
Lewis sat with me and asked me a various amount of questions such as:
What areas and industries do you like to design the most for UI?
Why UI and interaction?
What kind of data do you like to look at?
And a few more other questions to do with visual presentations and analyzing numbers and figures. When he asked that, I've realized that I really enjoy designing complex interfaces to do with data visualization, charts, stocks, numbers, and a lot of other elements. To explain what I mean exactly, here are some examples: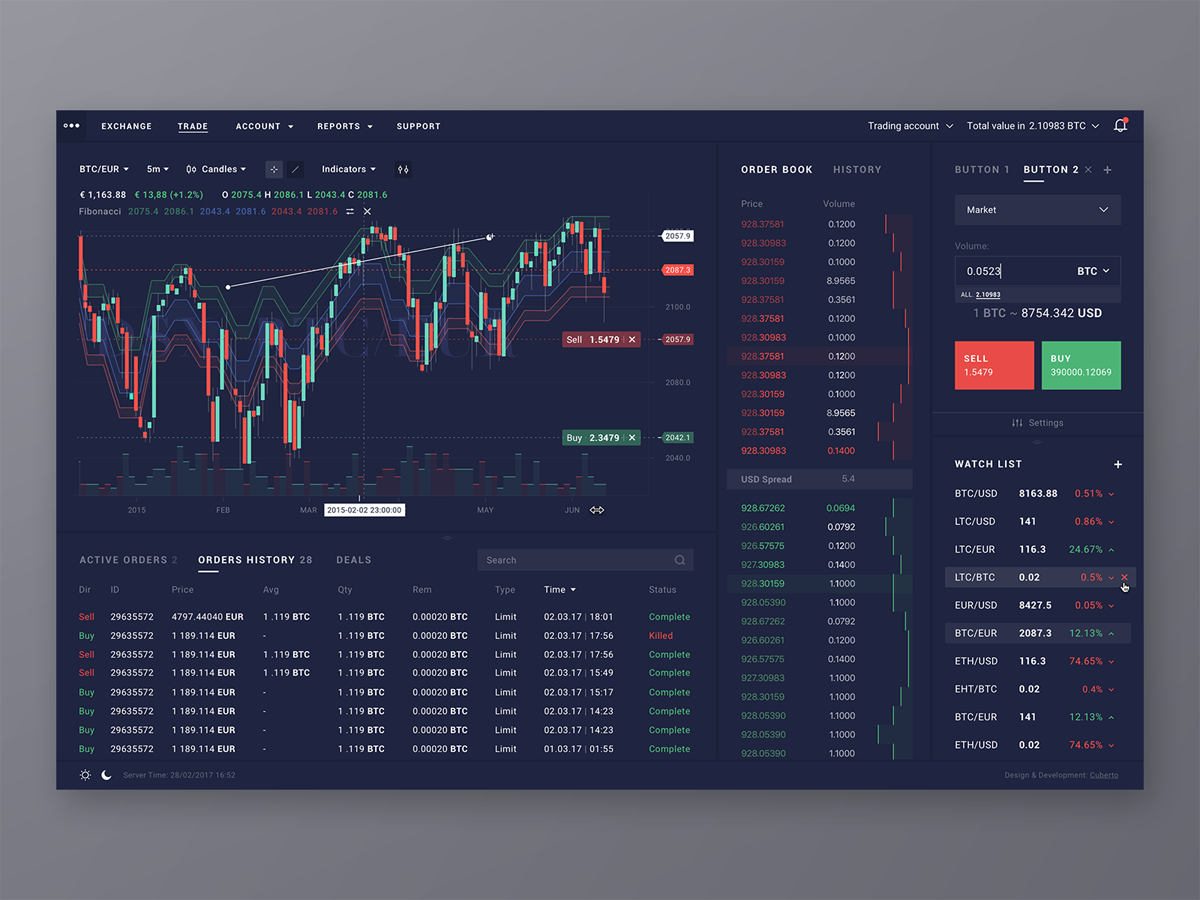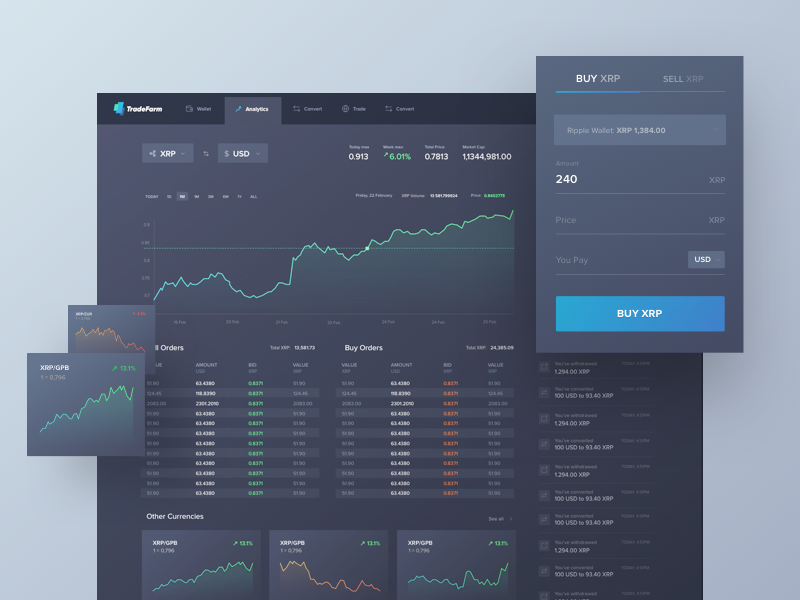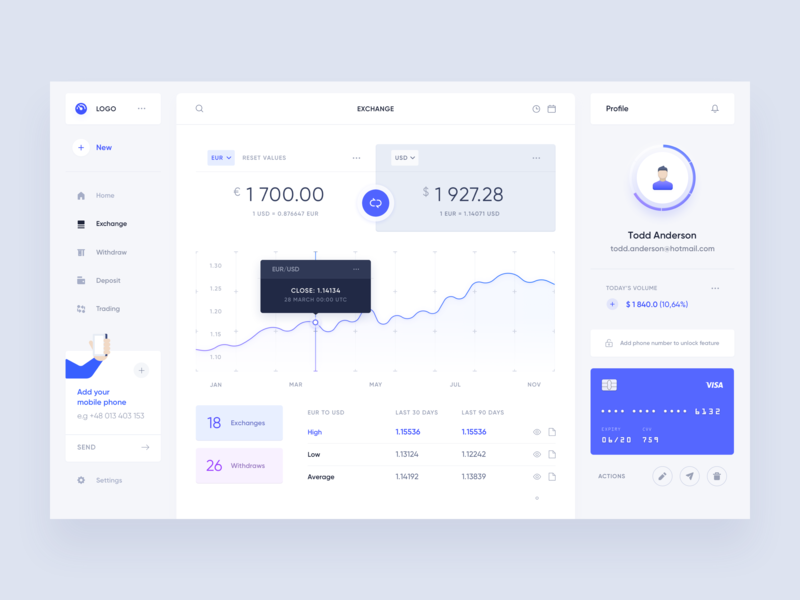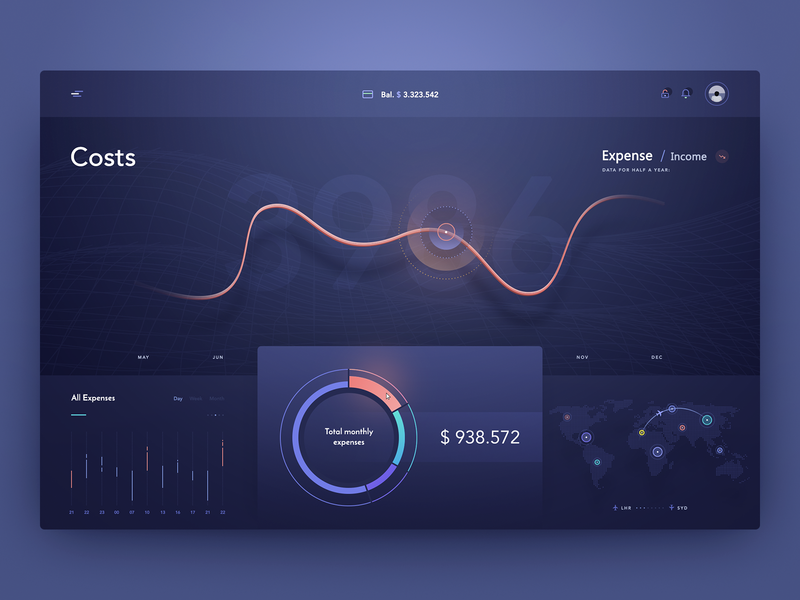 Why do I like this kind of UI Design or financial related interfaces? because it looks futuristic. Due to always being a great fan of futuristic visuals, the closest UI of today that does look futuristic, are financial related interfaces that have numbers, stocks, charts, prices, and a ton of other data. You can also be very creative with data visualization and the only limitation is your creativity and mind. Just notice how in these images how well designed they are. The elements and data are well presented and are easy to comprehend.
The verdict? I enjoy designing complex interfaces with a lot of data and ensuring they are easy for users to comprehend. Data visualization is a huge design field for me and I absolutely enjoy it a lot. It's simply an amazing design category for me and I feel I could design different data visualization interfaces for a very long time and be very with them. It certainly is a challenge to do, and these kinds of challenges, are the ones that I really enjoy. You never know, I may be a UI designer for a financial institution in the future.
Writing the Research Proposal
Structure,
For the introduction, you will motivate your hypothesis/thesis and explain in a short manner what you are going to research.
In the literature review, you will state the importance of your research and how you can add to existing research. Any resources you have explored or reviewed should also be mentioned. You may also state any flaws that you may have noticed in the academic sources that you have looked at. It is important to also only include sources that will add value to your work.
You will explain here how you will collect data to support your research, e.g quantitative and qualitative methods. Include how and what you are going to do. Also, explain why you have chosen those methods and how they are specific to the research you are conducting.
Why are you conducting your research? what are you hoping to achieve out of it? Identify the main issues that you are going to explore and what questions you are going to answer.
Writing Strategy (Dissertation)
Cottrell (2014, p.179) suggests that having a good plan can make the writing process more manageable. It can help with the assurance of the following:
Complete on time
Write to the word limit
Use time effectively
Reduce the stress of the task
Do justice to your research and analysis
Get your message across
And there are two main areas where students wish they had approached things differently, which are:
that they had cared for the final outcome to achieve higher marks.
that they discovered methods of making the writing objectives more manageable.
I'll be applying the methods that Cottrell has mentioned for my dissertation, as this book is very enlighting.
Cottrell (2014, p.180) recommends not to write too much at once because it can lead to boredom and de-motivation. So I'll be spreading the word writing into short blocks over a longer time. Therefore I'll be fresh each time I come to write. What's the result? better and clearer results due to sharper thinking.
The start date for my dissertation is the 1st of July, and the reason for that is because I would have had a good long break away university-related work. It's in my mind that I will be starting on that day, and therefore I will definitely make a start on that date. There will be a long time for me to complete my first draft of this dissertation. Applying Cottrells methods, I am aiming to finish my first draft by the end of August, that is 2 months roughly. When I finish by the end of August, I'll be reviewing my writing and constantly improving it, until the meeting with my lecturer Jamie so he could take a quick look.
---
Challenges
The structure is rather simple and straight forward, but that's not the challenging part. The challenging part is when you actually start writing the research proposal, you need to make sure you are able to convey what you are proposing effectively and as required.
Finding the appropriate academic sources that will add value to your dissertation. The reason why this is challenging is that you might think a lot of the sources you find are irrelevant when in fact that is not the case.
Coming up with the right question. Until I met with my friend Lewis the other day I really struggled with coming up with a question, a question that will set me on the path I should follow. The iterations I had to go through with him were rather time-consuming and it simply wasn't an easy process as well because you need to make sure your choice of words is excellent. Every word in your question counts. Every word is significant and will contribute to your final outcome of what you are trying to convey.
Word count, achieving the 1000 word count is not a problem at all. The problem is making sure to write quality content, because it's never about the quantity, it's about the quality. Personally, this is something I always struggle with. The English language not being my native is not an excuse because I've been speaking English for more than 15 years now, so I am fluent. In the past as well I've written a lot. So I have no excuse what's so ever, but I will say my writing has never been incredibly well nor the decisions that I make in essays and reports.
---
Thursday 2nd May 2019
This morning I had a review meeting with Jamie and the rest of my colleagues, Jason and Naomi. We all had the opportunity to talk about our research proposals and this session was very helpful for me because it allowed me to develop my own understanding of my own research proposal. By this, I mean the purpose and the way I am supposed to write my proposal. E.g the things that I should mention, structure, etc..
I've explained to Jamie how I wrote my proposal have shared the names of the academic sources and studies that I will be using as research material. At first, I had only 4 references because I wasn't aware that case studies were seen as a source that can be used to support our dissertation. I simply thought that we can only use actual academic journals from ACM and Google Scholar, anything else would be irrelevant. When I found out that case studies are acceptable I was rather relieved. I managed to increase my references count from 4 to 15 due to finding many case studies that are very interesting and link to my research directly and indirectly.
So now I feel more confident in my research and that I will be able to achieve a great amount when I write my dissertation. I don't think to reach the word count is the issue, it's the research and the quality of what I write that matters.
Dissertation Plan
Giving this matter a lot of thought. I have made up in my mind that I will be starting to write my dissertation on the 1st of July. It's been roughly 3 weeks since I have decided this and because the decision is firm it will not change. By the 1st of July, I would have had the opportunity to get away from doing any work for weeks and I would have a good period of time to rest, relax, and simply do whatever I would like. However, freelance will not stop because it's a good experience and good money. A lot of my friends in 3rd year have recommended starting writing my dissertation over summer because many of them panicked and struggled when they started after.
Why did they struggle and panic? because they had 3rd-year projects to work on along with their dissertation, this meant that their time was cramped and taking breaks would be a luxury. They told me you can do all of the dissertation work during summer and you will be able to have a much easier time when you start your 3rd year. You will be able to focus on performing well on the projects that you will be given.
When they have told me this I realized that I shouldn't just lazy around over summer and that I had to spend my time being productive to ensure I am being consistent. It's not like I'm burning myself out because as I said earlier, I will be taking a few weeks of the break to full-fill my needs before getting back to work.
By the time of 1st July, I would as well have a more precise aim of what I am actually going to write and research. This would be because of the feedback that I would receive after submissions on the 10th of May. I think it will go all well, hopefully, it does.
Tuesday 7th May, 2019
Having a meeting this morning with Jamie in regards to my research proposal was very helpful. He has given great advice and help on how I can improve my research proposal. They were really small things but ended up a good amount of points. Upon completing and performing these edits, my research proposal looks a lot better now, not only that, but it also makes a more compelling argument in regards to why I have chosen what to write about. The meeting took place at 11 AM, in Saint Andrews. 30 minutes of time was allocated, but the time has ended up stretching to 40 minutes due to a lot of discussion happening in regards to what I have done.
Honestly, without this meeting, I don't think my proposal would be where it is right now. I definitely think Jamie has done a good job at doing something like this because it really does help students to realize the important things they need to mention in their proposal. I have also read a book on writing research proposals, but even after I read it, I still struggled. Strange right? I believe 1 to 1 meetings are more helpful because you can have an interactive conversation.
---
Define UI and UX
Mention in the intro, how is this proposal relevant To my practice and why am I doing it
Mention whether users are b2b or b2c, business to business, business to consumers
What kind of users am I talking about needs to be mentioned
Brand sentiment and intuitive UI to help determine profitability
Instead of asserting, make it a question.
"Improvement in terms of..", rephrase that sentence.
How do you measure the improvement has been a success, profits.
State why you are interviewing 2 different user groups, designers and people
Rather than saying what info I'd expect to see – what problems do you have when you are looking at a stock graph and what you would like to see?
An intuitive UI will assist, change that to a question.
How do you measure success, what do you mean by performance?
Academic sources explored, change to the literature review and put citations.
Describe the document a little and cite it.
The list above is the feedback I have received from Jamie. It may not make sense to readers, and this is because I have written the feedback in a short form and in a way for me to personally understand. The list is solid, and it is evidence of how much useful feedback I have received.
As of currently, I have done the edits and I think I am quite happy with how my research proposal ended up coming out. The question I had written down for the proposal had to be refined several times because it's as if I've been stubborn about the fact that it needs to be specific. What I have been trying to do is make it specific, yet broad so I can explore my field widely. But then again, that complicates things for me and would lower the quality of my dissertation.
I am happy with the outcome has mentioned and look forward to the results I receive from the work I have done.
Bibliography
Cottrell, S. (2014). Palgrave Study Skills Dissertations and project reports. A step by step guide. Palgrave Macmillan.