Thursday, 17th January 2019
Today I had a meeting with Jamie and my colleague Jason to discuss the broads project. We have made a start on the themes we discussed which are as follows:
– Landscape Heritage
– Cultured Heritage
– Ecology/Biodiversity
I have done exploration and some research on the landscape of the broads. A mood board has been created using Pinterest which is located here: https://www.pinterest.co.uk/ameer979797/broads-landscape/
The landscape has been chosen by me because I personally like landscapes and I have the interest in investing time to do research into this segment of the project. Exploring the history of the landscape is also essential and will help me with contributing ideas to the design aspect of the project, not directly, but rather indirectly with some of the design decisions that I will be making when the time comes.
A Trello this week has also been created, where we can share useful links and sources of information that have been found. This is to create a platform where we can manage our ideas and discussions. It's almost like real-world experience as many different companies and businesses use Trello as a business management platform to keep employees of a department or project connected so they can communicate the project objectives when needed and brief others into the ideas they have in mind.
This will be a very interesting project and we are still at the very beginning stages, tomorrow Friday will be interesting as it will be a day of visiting a few locations. Photographs will be taken for the record and for research purposes to assist with the conduction of research. As also, the fact that we had a meeting with the project owners or managers a few days ago was very enlighting because it was the first time I sat in a room with the people responsible. In my mind, I felt as if they were the clients and it was very important for me to pay attention to what they were saying, otherwise I would be lost and I would have no idea what the whole project is about.
Due to this being my first time, My decision making will be extra careful and more aware of the work I do. In other words, think more than twice or three times before I actually take a major step or even a minor one. This project as well feels like a workplace learning environment, but internally and within the university course, and I think it's great because we also receive support to a certain extent to ensure we are actually abiding the rules of this project and the brief. Sometime later we will also be collaborating with another course, and that is also exciting because it will be the first project that we collaborate with others. I am definitely interested to see how it will go through because I am quite confident in things turning out well and will be very educative. It is also important to be aware that this project is a major part of the unit and so achieving a high grade is very important to me.
Friday, 18th January 2019
First, let me begin with showing the photos that have been taken during this day.
Great Yarmouth Train Station
Remains of Burgh Castle
The Broads
Burgh Castle – infographic discussing the location
The BSc crew – missing Jamie who's hiding behind the camera 😀
What happened?
It was a very insightful day. I enjoyed it very much and was exhausted by the end of it as I actually fell asleep in the van that Jamie took us to the locations and then back to Norwich. We picked up someone who is a stakeholder of this project, around 10:15 AM if I remember correctly and we headed to our first location, Great Yarmouth Station! this is where we met a group of people who we had to talk to so we can understand what it is they like and how do they feel about the locations we went to with them. I didn't particularly talk to them because I was rather hesitant and was not sure how to approach them due to the fact that they are a group of special needs individuals. I didn't want to unintentionally do something or say something wrong, so instead, I overheard many conversations to gather data.
When we met at the Great Yarmouth station we headed to the infographic, which is the image below:
The location:
When we were there we discussed the location and some of the histories about it. The important thing at the beginning is we had to point out that the infographic stand was rusty and that it needs to be replaced. We also discussed the possibility of placing hotspots for the project, however, the 4G networks on our phones were working perfectly, and even at the further locations, we manage to obtain acceptable speeds.
After this location, we headed to the marshes for a long walk:
The walk was very pleasing and it gave the opportunity to get a feel of the location and see how history has affected and changed it.  While we were talking I felt more connected with the project and when it put me in that mind state I was thinking quite a lot on how I am going to execute my role in the project. During the walk, I took the chance to overhear conversations and I heard multiple statements such as "I enjoy these kinds of walks very much" and "I like to drink tea when I'm around here". It's data like this that I think is very useless to digest because it will make us think on how we should approach solving the problem of the project. It's very important to understand our target audience, which is very much why we had this research journey.
The walk itself lasted for around 2 hours, by that time it was 1 pm if I remember correctly. The next destination was to have lunch at Asda. The food was actually not so bad there, for the price it was reasonable but other than that it was nourishing and it was a good refuel station due to the walk taking most of our energy. While eating we discussed what we thought of the walk and how refreshing it was to have a walk rather than our usual environment which is at the university. Also, one of the members of the group involved was asked multiple questions by Jason such as what they thought of the walk etc…
After Lunch, we looked at a location just nearby Asda, which is the image below:
Resuming the journey, we headed to Burgh Castle. Which was very nice and I enjoyed the walk along with looking at the remains there. The mills were also clear and we could see them from miles away. Overall, the view was very pleasing and I enjoyed the journey of this day very much.
We will be going to more locations next week and I look forward to exploring more along with my colleagues. Personally, I am enjoying the project so far and I want to start making and building UI's and do development. That will come with time.
Tuesday, 22nd January 2019
Going into university, today has been spent as a day of reflecting and I believe discussing what happened on Friday where we visited the multiple locations. Jamie, my course tutor, has asked my colleagues and me about how we felt about what occurred on Friday and what we particularly felt throughout the day. Personally, as I said earlier in this blog, I enjoyed it very much and so did my colleagues.
After the thoughts discussion has taken place, the conversation about the schedule and what will be happening took place. This Friday we will visit more locations and explore them. I do believe one of the stakeholders may attend as last week, but I'm not sure what Jamie has said on this as I don't remember.
What I also look forward to is Thursday, because that will be the day where I will be conversating with Jamie about animations of UI and interaction design. As this is for the small project of 100 hours where I will have to be making three interfaces, one each for the different themes. I feel it will be a challenge and it should be, as that is how I will be growing as a Designer. But other than that I am having a busy week so far with balancing my research for this project and my freelance work.
I will see how it goes, and I'm sure it will be interesting regardless of the events taking place.
Friday, 25th January 2019

This is my time-table/schedule that helps with managing my time effectively. Other than working on this project, I also have several other tasks that I need to make sure I do. The reflective journal is really important to keep up to date, particularly for this project mainly and the interface animations design project.
Research is also a task of its own for all the projects I am working on. I have not set a start date nor a due date because research is always on-going regardless of the date. Also because it's for several projects, when I see it on my schedule I am fully aware of what research I need to do and for what project.
Storehouse, this is the magazine of the university that is produced every year. I am the Head of Online and I need to make sure I perform my role and responsibilities as best as possible. The goal, being the Head of Online, I need to work with three of my other colleagues to design and develop the new Storehouse website rather than the current one which you can see here http://storehouse.online/
---
Another day full of journeys and move to two different locations that we walked and explored. I really do find myself to enjoy these trips and they are quite insightful as always. Here are some pictures and videos were taken during the day:
Broads National Park
Oulton Broad
Broads National Park – Carlton Marshes
Broads National Park – Carlton Marshes
The walk at the Broads National Park was a very important and a crucial one, this is because during the walk I over-heard very useful data based conversations that will help me design and develop the work that I will be doing in this project. Even more interesting, was the group discussion that took place.
During the discussion, I had the opportunity to note what our viewers would like to see in the potential app that will be made for this whole project. Here are some of the things they have mentioned:
Fitness step counter with competition fun opportunities: What this means is have your steps recorded and perhaps a form of integration that can track your friends step counter as well, therefore being able to track each other's steps and see who has achieved higher steps.
Augmented reality, with arrows on the ground as you walk along the path: this would help some people connect back with the path should they lose sight of it. With arrows on the ground that emphasizes the greatness of this piece of technology. It makes it more interactive and usable in various situations.
Calories Counter, this is part of promoting fitness: with calories being counted people could track their overall contributions to fitness and perhaps have a calories counter that adds up to the end of the month.
Audio while walking along the path: this was an idea that was very much liked by the members. Audio that perhaps talks about the location they are walking through will help them understand the history and how it all happened. It could even be the music of tranquility and peace.
Augmented Reality with different seasons, I'm not sure if this possible, or it probably is but difficult to achieve but changing the seasons of the locations are they walking along is a very entertaining experience and will be an immersive one. So let's say it's summer, they could change the season to winter, autumn, and so on..
For kids, incorporate AR animals: to make this fun and encouraging for kids, perhaps the use of AR technology could allow placing cartoon/digital based animals around that would be friends with people and even get close them, smile, and be very playful.
Treasure Hunt, this would be very fun for kids and adults. Using their devices, random treasure would be hidden around the areas of the park and by doing this the entertainment of this location would be promoted and therefore encourage more people to visit.
The last thing I expected the members to mention was their interest in a fitness step counter. This is because I did not realize their spark of interest in technology. As well the idea of having Augmented Reality being applied as they perform their walks. But it was a very insightful group discussion and I will be applying these ideas to the project.
What I am Thinking so Far:
I'm enjoying what's happening so far and this week will be the week where I actually start to design three different interfaces, one each for each theme or three for one theme. Although instead of focusing on one theme I'd like to explore the three themes, this makes the project more entertaining for me and allows me to expand my horizons.
While I do feel it is challenging, and it is meant to be. I still have interesting interaction and design ideas in my mind that need to be implemented and looked at. My goal for this week is to establish these designs and then share them with Jamie and my colleagues Naomi and Jason. 
The research aspect of these designs and animation effects is here: https://ameeralashhab.nuacomputerscience.co.uk/2019/01/24/interface-animation-effects/ – updated over time
Tuesday, 29th January 2019
Today a busy morning of research and discussion has taken place with Jamie, including with my colleagues Naomi and Jason.
Sticky notes of the decision-making operation that has taken place for what we should implement in the project for the web application.
During this phase of the session, we discussed what features and functionalities we would like to make. All kinds of ideas popped out. The ideas have dropped like rain and so initially the ideas were scattered everywhere. Then what happened is we organized the functionalities and features we would like to implement into priorities and capabilities in terms of time and scale of possible achievement. What this means is, certain features are out of our knowledge and skill, or simply would take too much time to implement and create with our current powers.
The way that we have picked the three potential categories of ideas and functionalities is by placing colored dots on our favorites, and the favorites have been decided by the time and scale we have. To a certain extent also what we liked or would like to see be created and implemented.
I think in situations like this it's very important to be realistic and consider what we can actually create with the time we have available and be aware of our current skill sets and knowledge.
Potential thematic ideas that describe the project in the context of nature and the experience of walking.
Here what happened is we had to come up with thematic ideas and write them on the sheet of paper, and the results were quite interesting. Based on what others said, my ideas were great, but at the same time, I thought they were not at the level I wanted them to be. The reason why I say this is because I hesitated initially while writing them down on the sheet.
The thematic ideas that I wrote were as follows:
"The walk of the world" – iteration from Jamie was as follows: "The walk of the wild" – which I think is a good idea and better than what I originally wrote.
"Discover what nature is hiding" – I hesitated with the acceptance of this one because I didn't think the word hiding was compelling enough or emphasizing.
The essence of the broads, these are words that we come up with that describe the essence. Such as seen in the picture, emotions & feelings, Health, Environment, Education, and so on…
Multiple ideas have risen, I think for this particular stage I have managed to get my mind to connect and engage very well. I believe I contributed quite significantly to this segment of the session because I had several in mind, but regardless of this, my overall contribution for all parts of the session is great and solid.
Key Takeaways of The Session
This particular session was very important because it gave a better insight on approaching the project and what we will be doing. It's also really great to discuss ideas back and forth with everyone else, it makes me feel as if I'm in a team, and that is really the case, we are a team. Sure everyone has a role or a different task to do towards the project, but we are still a team regardless of this case.
Further on, for the next session, I'll be drawing quick sketches on my iPad on how the app may look. However, these sketches are not meant to be highly detailed and qualified for actual transfer to design a high fidelity version of. They are for ideation and progress. During the next session, I'm sure a review of these drawings will occur, and conversation will be exchanged back and forth about the drawings that my colleagues and I get done.
I look forward to and see what results are to be produced.
Thursday, 31st January 2019
Unfortunately, I missed an important today due to receiving a un-expected virus under the name of a cold. Asking Jason what has happened he has told me that they have drawn wireframes and have performed some design research which was one of the most crucial aspects and segments of this project.
Instead of feeling bad about this and unlucky. I decided I had to draw a few wireframes for the day and be prepared for tomorrow because what was going to happen tomorrow is guide the users that we will be talking to through our wireframes and ask them for their thoughts, opinions, and how they feel about the structure and the layout.
Friday, 1st February 2019
The following images are located at Beccles
I started the day feeling okay and at an acceptable state, but despite this, during the day my energy levels and mood began to fall as the hours went by. This is because of the cold that I had.
Beccles Fen
The first walk of the morning was around Beccles Fen. Which was heavily based on a path that was constructed to show the development of the area over time. The fens in Lincolnshire are seriously cultivated bits of arable land, well known for their waste channels. The land north of Beccles was once likewise seriously cultivated and was depleted, making a 'fenland', which is the place its name gets from.
While walking through all these locations I had the opportunity to speak to Jamie about design, and particularly an Interaction Design event that takes place in Paris. Although it may not be relevant directly to this project, I still thought it was educative material because any discussion to do with design is educative to me.
As well these walks and trips, every time we go on them I feel more connected with nature and the world. It's really interesting to see the world out there and put city life behind you. I don't mind it every now and then, because it's always good to take a break from the areas your in, but I myself I'm actually a city life person and I love utilizing technology.
A common pain point that I have heard throughout the visit today is the lack of signs, signs, and signs. In every location we went to, signage is a major factor for creating an audience for a location that you'd like other people to visit.
There are signs in the focal point of Beccles, for example, the one presented beneath, in the focal point of the town, however, there aren't too numerous signs from the dock to the town focus.
Credits to Jason Brown for the photo: Town Centre of Beccles
The internet or the 4G Data Network was working positively fine. I was achieving a download speed of 7MB and an upload speed of 2MB. So if any digital experiences that were to be implemented for this project using an app, then it should not be a problem at all with internet data. Which indeed is a key factor to this project's success, otherwise how will people achieve the required internet so they can have access to the app.
Usability Testing & Concept
The idea behind my drawings was a different approach compared to my colleagues Naomi & Jason. I want to design a web-app that delivers a more interactive approach where you have to use your fingers more than just clicking buttons. My app needs to be engaging, visually appealing, and interactive, this is why I'm an Interaction Designer.
The sketch on the left the side is a representation of the welcoming and introduction screens of where users can press enter and then they would select a category they'd like to explore. Wildlife, history, and images, which would all be linked together somehow further in the app.
Screen 2: three circles where users can swipe to select an option, essentially those are the categories.
Screen 3: Are circles floating where if users press on Wildlife, they can click on whichever animal or bird they would like to explore more.
Screen 4: This is the screen that is under screen 3 directly, which is an iteration of screen 2, or perhaps an alternative to which where users can select a category.
The Sketch on the right side screens to do with the actual application itself. I placed fitness related counters such as steps and calories. Including distance and time.
Feedback
Receiving feedback from our fellow users who own iPhones and have some experience with technology. They really preferred and liked the approach of having circle-based categories and you can swipe to choose which category you'd like to explore more. They preferred the circle shapes instead of having them as rectangles as shown in the sketches (right side).
They also have stated that I would require more personal information in order to obtain accurate calory losses such as age, weight, etc.. however, one of the users felt uncomfortable providing personal data and so I thought I may have to disqualify the idea of having accurate measures of these fitness-based figures.
Another important piece of feedback is they preferred to see this information on the bottom of the screen rather than the top. I do believe it made it easier for them to perceive what is going on with the whole screen when such information is on the bottom. It really does make a difference.
Overall It was a good day, and it ended with me feeling quite bad and tired, but as I write this I feel a lot better and I look forward to what's coming next, and this is designing high fidelity screens for the app this week!
Thursday 7th February 2019
Timetable update

Over time I have updated my time-table to ensure that everything is going as planned. Since my initial posting which took place on the 25th of January, a lot of work has been accomplished and complete. My first reflective journal schedule has been marked 100% and then on the 1st of February I have inserted another Reflective Journal task to be completed for the 15th of February, which is the hand-in day.
As for Storehouse, I have designed a lot of the homepage, almost half of it, I usually work on my projects based on priorities. Which means that my actual university project related to the course has the highest priority, then the priority drops down to Storehouse and other work, including freelance.
There is also a new entry called "Revisions", by this entry I mean to make sure everything is the way it should be. In other words, quality insuring. I think it's important while I work in the last few days of hand-in, is to also perform a quality check on the other work I have done, consistency is achieved.
---
User personas have been produced along with my colleagues and Jamie. A rather productive day I have to admit and it was crucial information to this project. Here are the personas that have been made.
The context is the walking trips for different people
Retired Rambler,
Strengths,
Time
Familiarity
Some experience with a phone
Motivation to walk
Interested to know more
The social aspect of the walk
Local Knowledge
More willing to travel by public transport
Weaknesses,
Anti-headphones
Older devices?
Biased against the digital environment
Opportunities,
Captive audience
Natural history knowledge
Historical Knowledge
Modern forms of interaction
Threats,
Lack of willingness to interact with an app or walk
School-age leads Parent + Child/Children 7-13
Strengths,
Medium-scale walks?
POI as objective?
Weaknesses,
Unfit is a possibility
Wanna stay home & play v.games
Opportunities,
Turn the walk into a game
More sophisticated content
Threats,
Weekend Walker,
Strengths,
Up to date tech
Local knowledge of the area
Weaknesses,
Potential time pressure
Interest in more well-known locations
Lack of knowledge of travel
Opportunities,
Escape normal life
Small-scale tourism (local)
Route planning
Fitness
Threats,
Pre-school Children,
Strengths,
High interest/motivation
Limited attention span
Weaknesses,
May prefer with a walk more family facilities and attractions
shorter/slower walk
Less challenging
Opportunities,
Short walk with a POI as an objective
Bug identifier as a game?
Threats,
Accessibility, buggies?
overcomplicated content
A Dog Walker,
Strengths,
Already in the location
Interested in walking
Regular visits/routine
Motivation to walk further
Usually accompanied
Weaknesses,
Keep dogs on a lead
May not want to try a new walk
Time-pressured
Opportunities, 
Encourage them to try new places
Enhance the existing experience
Threats,
May not be interested in additional content
This is persona and profile thinking for the three different themes. 
These are post bits representing the flow of the website or the application that will be designed for this project. This has been created along with my colleagues and my lecturer Jamie. We have discussed and conversated the ideas to come up with something that actually works. Nothing has been confirmed yet, however, this is something that we will work along the lines of for the final production, or instead of the production of the prototype.
How it works, is first, users scan a QR code that will open the landing page. They will then see the three themes which are landscape, cultural, and ecological plus biological. From choosing a theme, they will then experience the digital products we create.
Unfortunately though, during the production of this diagram I have not contributed as much as I would have liked to do so due to not feeling so well because of the cold that I have, in fact, I was mentally and physically drained. So most of the time while this was being discussed and developed, I paid Close attention to what my colleagues and Jamie were saying. In between, I did contribute my opinion a little bit.
At the end of the session, I did feel quite bad and I'm not going to lie about it or pretend as if everything was perfectly fine. This is because I have expectations of myself that I need to fulfill not just as a designer, but as a person who strives to be successful. I will not be successful if I am not there when I need to be. At the same time, I do need to be realistic and realize that there are days where I'll be struggling.
Friday 8th February 2019
A quite productive day with my colleagues Jason & Naomi. The UI design and the animation below is the prototype that will be presented as the main idea on Tuesday to our guests Anna & Nick.
The day started with me coming in at 11:30 AM rather than 9:30 AM because I felt quite ill and I still feel slightly ill but I'm getting better. My colleagues really needed me to come to assist with helping to design the global navigation screens. Based on the sticky notes that have been done the previous day.
Here are the designs that have been done screen by screen, global navigation screens:
Landing Page:
The Thought Process
The thought process of the landing page consisted of decisions based on the time we have, colors, and expected contents. My colleagues have requested me to keep the design simple yet engaging and meet the basic needs of user experience design. The design should not or have to be visually overdone. It's simply needed to be something that is easy to use and engaging.
So I sat down and began thinking of using a color that is natural and represents nature. The first solution that came up to my mind was using the green color, you may be asking why? The research that has been conducted behind the green color is drastic and has shown to have a significant impact on the people who view this color, due to the fact this color represents landscape and nature, including wildlife.
As a designer, regardless of me being an interaction designer or a user experience designer, it is important to consider these factors regardless of your position. I see this because design can be used as a weapon to meet your business objectives needs. Such factors have shown to link with meeting a lot of the psychological needs that users may have in using such an application.
The simple branding that has taken place to represent the angles way, is primarily based on using the identity of a dragonfly. This has been decided by my colleagues and myself. The real question is, why a dragonfly? This is because dragonflies belong to almost all kinds of environments and landscapes. It's an insect and a species that belongs to many parts of our world, or rather, able to adapt to jungle and Forest like environments. They are also predators that live on every continent except Antarctica.
The simple branding that has taken place to represent the angles way, is primarily based on using the identity of a dragonfly. This has been decided by my colleagues and myself. The real question is, why a dragonfly? This is because dragonflies belong to almost all kinds of environments and landscapes. It's an insect and a species that belongs to many parts of our world, or rather, able to adapt to jungle and Forest like environments. They are also predators that live on every continent except Antarctica.
Now indeed that this is very simple branding, but simple branding has known to be rather effective throughout history and the actions of many designers in the past and in the present. Branding in itself is a valuable mark or symbol that represents a business or an organization that has the simple objectives of conveying its purpose to the consumers.
In other words, when people look at a dragonfly what are the emotions they feel? What goes on into their minds? In this situation, they will perceive the Dragonfly as a meaning of representing nature. Which correlates with the sole purpose of promoting the Broads. When you walk through the Broads, you will experience the beautiful biology and nature.
Choosing a Theme Page:
The Thought Process
This is the screen where you decide on what theme you wish to embark a journey through. It has been constructed through the consideration of simplicity as throughout the rest of this app along with the other screens. Three different images have been used to define and convey the options, these options are and based on the project, landscape, cultural, and biological.
As with the previous design my goal was to come up something engaging and simple, and my colleagues really desire to have me in the position of deciding how the screen is laid out and achieved. The approach is simply putting the options over each other along with text that describes the theme.
At the end of producing the screen concept, I ask myself if this is really how the design should be kept. This is because I know that there are many, many different ways to approach user interface design rather than the mediocre and the generic. For example, instead of putting these options as squares or rather rectangles, they could have been designed into many different shapes such as triangles, circles, and hexagons. Including angling different shapes along with combining them, however, it is more of a risk, a high risk to perform such a decision. Instead of this, why not attach to the graphic design principle of K.I.S.S or keep it simple stupid, this way I am more likely to come up with a design that actually works.
I have always believed in coming up with innovative and creative approaches rather than the mediocre and the generic, but in this context, with the remaining and time I cannot perform such heavy analysis to double-check on whether these approaches will actually work, so I have decided to stick to the position of safety.
The Animation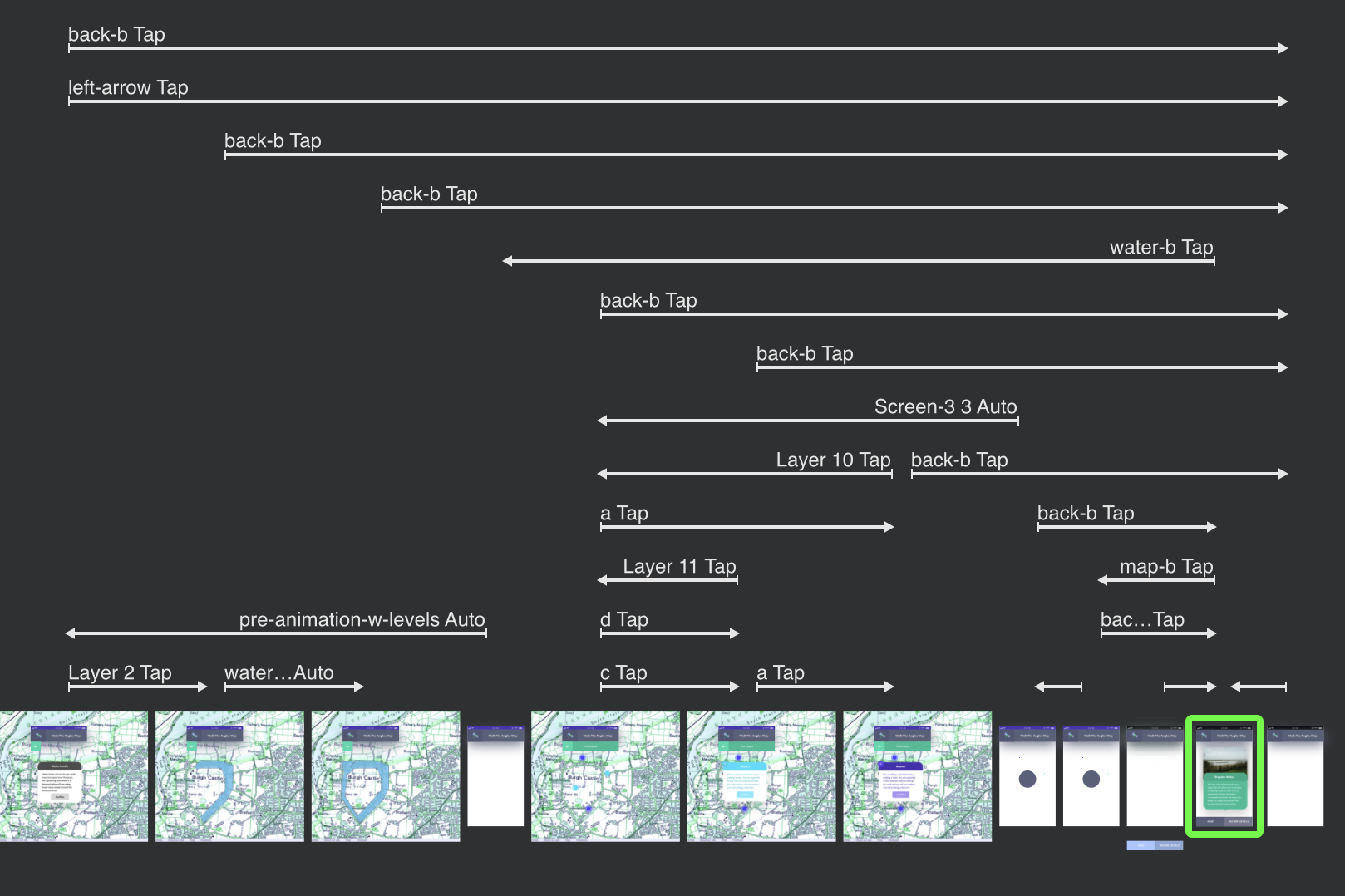 The image above is a representation of all the arrows connected between the screens, these connections represent the transitions and animations that take place as you click on certain elements. In total there are 13 screens engaging between each other to create this interaction. This animation has been done using the software principle for Mac.
In my mind, while I was creating this, I really wanted to make something that looks professional and is rather engaging with the user. During group The Creation of this animation I faced challenges here and there, and so despite the challenges, I think I have managed to produce something that I personally feel works. I asked my colleagues for their opinions, and they liked what I produced. The challenges that I have encountered while producing this animation involved software understandability and creativity. But time was also a factor because I knew that I had to have something ready for presenting on Tuesday.
Although, what makes me wonder the most, is what the thoughts of Anna and Nick will be. But at the same time, it is important to keep in mind that these are just prototypes and are not final concepts. Since they are just prototypes, it does not mean their worth is devalued. Prototypes I simply meant to show ideas and research in progress, in preparation for the final production of the product.
Concluding Thoughts 
I do have to admit something very important, I've asked myself several times where the things are going too quick or too slow. But this could involve something that I have done wrong as well. Specifically this week I have found myself to have to work fast yet efficiently, without being able to take my time to think in preparation for deadlines. I'm saying this because compared to last year, things were rather slow and you had the time and the opportunity to converse and think more about what you have to do.
But really, I do believe that this is just the experience of being a second-year student, the university is trying to prepare us for the real world and preparing us to be able to work quickly with a low weight timescale. It is known, that there are times in companies and many businesses where you have to be agile and be capable of navigating between one project to the other without any problems. What I'm saying is, this week alone has been challenging and to a certain extent negative because of me having a cold and a very, very chesty cough.
I know how the industry can be harsh sometimes, therefore such excuses would be considered invalid to them. So I will do my best next time to perform better regardless of me being ill or not. Next week or rather this week, I will be preparing for the Hand-in day and the presentation that will be taking place on Tuesday. Confidence while present, is not a problem for me, because I do believe that Anna and Nick will like the work I have produced.
Tuesday, 12th February 2019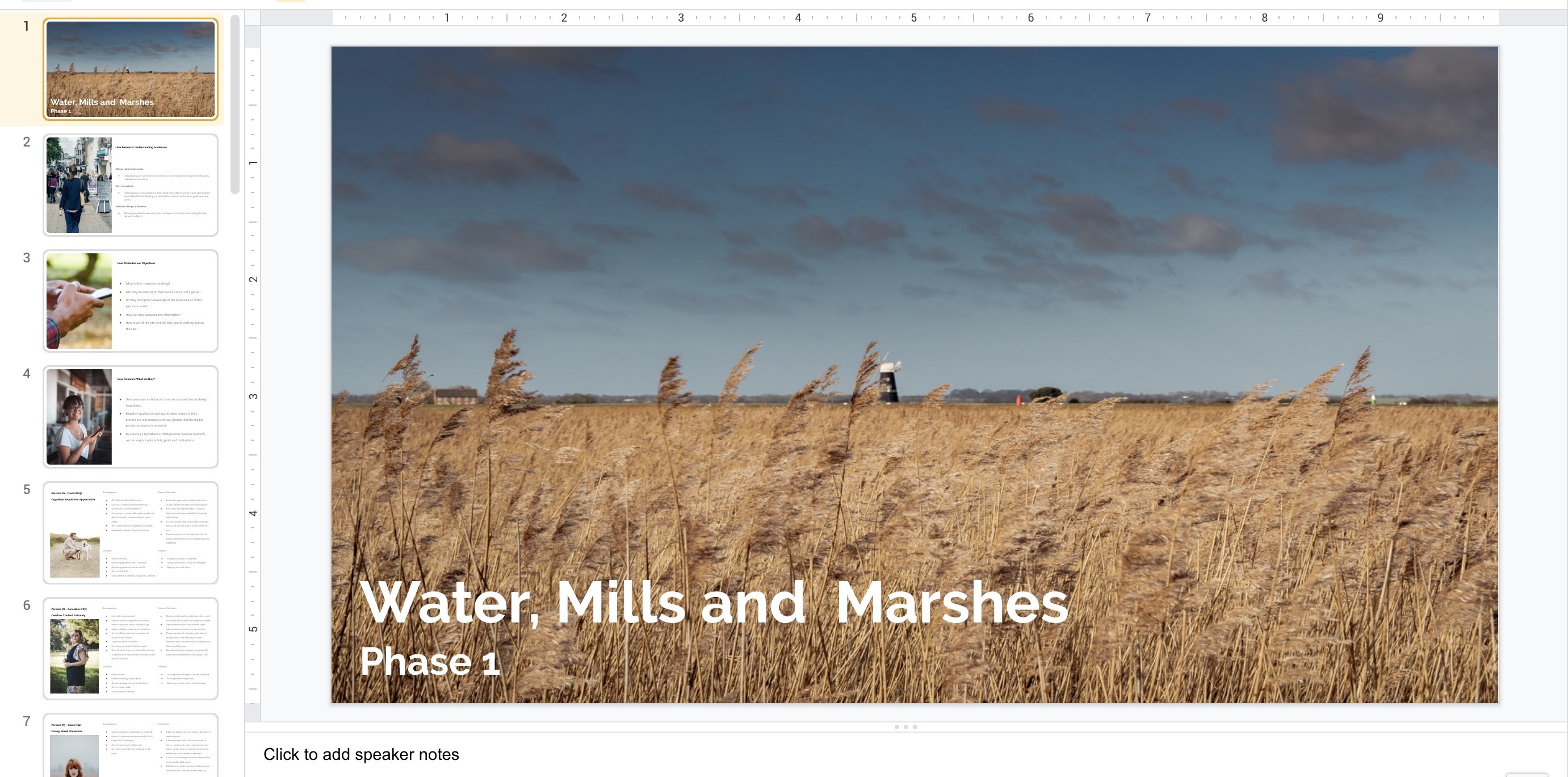 Presentation day has arrived after spending hours and multiple days of work and communication with my colleagues. The days of prep that have taken before have prepared us for this day. However, I kept in mind that the presentation wasn't meant to be as formal, because the viewers were the stakeholders we have been working with, Nick & Anna, which were only two people.
The purpose of the presentation was to convey and deliver all the research that my colleagues and I have done over the past few weeks. Which included the research of visiting and going to the locations. This also included the research of conducting the basic user testing of the wireframes we have drawn as highlighted earlier in this blog post.
Final preparations and revisions took place an hour and a half before presenting, that was 9:30 AM. My colleagues and I sat down double checking the presentation via google slides, and while working on this we realized that my videos were not playing as they should be since Jason downloaded the presentation as a powerpoint. The simple fix was to download my videos and insert them into the powerpoint.
Jamie, my tutor, had the opportunity to get a quick look at the presentation while we were going through it and at this point, we were ready and were patiently waiting for our guests to come, aka the stakeholders.
While presenting…
Everything was going smooth and as planned, however, my improvisation was not performing as well as I expected it to. I was very confident just before presenting, and while presenting and doing my best to convey what I want to say the stakeholders, my voice began to struggle slightly and my confidence dropped. This was a sign of nervousness which hasn't happened as bad as before in the past with other presentations that I have done or participated in.
I did all my best to pull myself together just to get by for the day, and I was thinking that I can perform a self-analysis to understand further why I was like this. The problem is I have high expectations of myself and I want to eliminate every potential existence of failure or even just underperforming by a little bit, but again, is that really realistic? no, it isn't.
Feedback & Discussion
After the presentation has concluded, the prototypes have been shown to our stakeholders for testing and to play with an experiment. They very much enjoyed the prototypes, including the animations I have made and executed, however, one major and important feedback that I was given was "slow down the animations", why? this is because while presenting the animations as videos, the animations took place really quickly, hence why I was struggling to walk them through while the videos were playing.
One of the stakeholders, Nick has advised to slow down the video/animations for future reference when I present once again. It will be a lot easier and better to walk them through. Anna has also told me that she really liked the animations and the idea of having a timeline discussing the history of the locations.
Jamie, my lecturer also told me how this can be a method of scrolling or going through the screen, which I personally like I explore as we go further in this project.
Conclusion & Thoughts
Overall, the presentation went very well regardless of how I thought I performed. We were praised and the stakeholders were impressed, including Jamie, who believed we did very well. So I am glad and happy about that. After the 1 week off of hand-ins, we will continue to work on the project.
Over the break, I will be thinking of what will happen once we get back, along with doing freelance work and developing the Storehouse website since the design stage is almost complete. I am the Head of Online and I am working Jason and 2 other colleagues who are contributing to the online team of Storehouse.
The online team of Storehouse is responsible for creating the website, and being the Head, it's important I make the right decisions as it's been a good experience so far.  Working and leading a group of people is something that I've always been eager to do because that means you are being relied on and you have to make sure that the final product that is produced is well made and thought of.
Another important factor that would like to mention is the idea of teamwork that is going to be taking place after the 1 week off, what is going to happen as we will be collaborating with two people from graphic communication students. These two individuals are Corina and Chloe, I am not really familiar with Chloe however I am acquainted with Corina, and I do have to say that Corina is a smart individual who I've seen the work of. Her work is across social media, particularly Instagram.
By the time we work with those students, I believe that will initiate phase 2 and I do look forward to it.